Presently sponsored by: Friends don't let friends write user auth. Use Okta instead. Start your free trial today.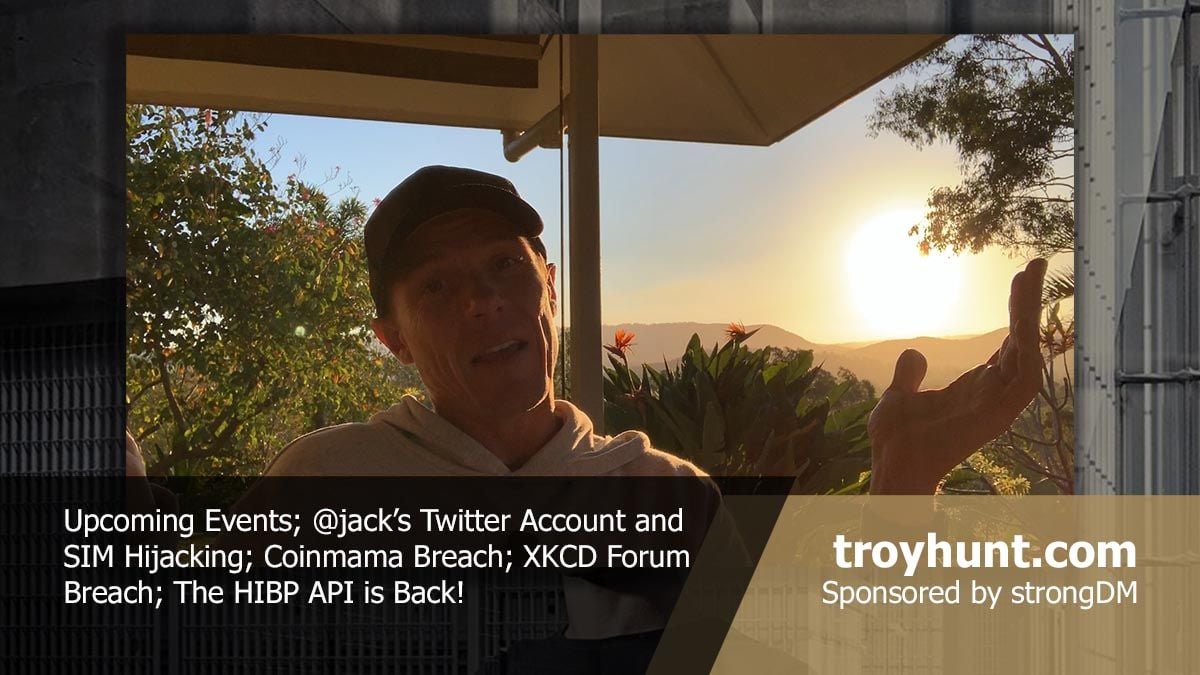 How's that for a setting in this week's video? ? First day of spring here which aligned with a father's day on the water:
May all your father's days be full of fun and laughter ? pic.twitter.com/pN1dQ38cDr

— Troy Hunt (@troyhunt) September 1, 2019
Back on business as usual, there's the SIM hijacking issue with Jack Dorsey's Twitter account, more data breaches and joyously, the HIBP API being back in full swing with the 500 subscription limit issue on Azure's APIM now being overcome. Next week's update will be from Oslo so a rather different scene, followed by some other cool places across Europe in the ensuing weeks.
References
I'm at NDC TechTown in Konsberg next week (closing keynote on Thursday, I probably should get onto that…)
Jack's Twitter account posted some nasty content after a SIM hijacking incident (how many of your own accounts can be controlled by someone who owns your SIM?)
You can now sign up for new subscriptions to the HIBP API again! (so it's basically doing precisely what's described in that blog post – again)
Big thanks to strongDM for sponsoring my blog over the last week! (see why Splunk's CISO says "strongDM enables you to see what happens, replay & analyze incidents. You can't get that anywhere else")

Troy Hunt's Blog
## Are you looking for products for hacking, computer security and penetration testing? Do you need to clean up your smartphone, your PC or your site from viruses and malware? Do you need to track down someone or retrieve urgent information? Do you want to buy devices already configured to experiment all the hacking techniques quickly and easily? Do you have special needs in software or hardware? ##
Contact us now … another 2300 users like you have already done it this year!